About the Brimstone Museum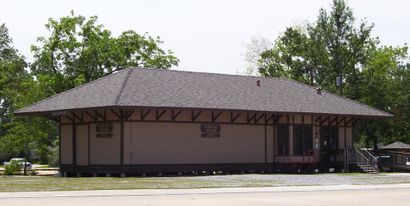 Built in 1915, the Southern Pacific Railway Depot was used extensively to ferry passengers and freight to the small sulfur mining community of Sulphur, Louisiana. The depot fell into disuse in the 1970's, and a group of local residents began efforts to preserve the building as a piece of history.
In 1975, the Southern Pacific Transportation Company finally agreed to sell the building to the Sulphur Association of Commerce for one dollar, on the requirement that the building be moved away from the railroad tracks, due to safety issues. After funds were raised to move the building, arrangements were made with a local house-moving company to relocate the building near Frasch Park, just off of Picard Road. The two-mile move took 10 hours, and required the efforts of many in the community.
After moving the building, next came the process of renovation. The building was cleaned, scraped, repaired, refinished, and repainted, just in time for its dedication ceremony, which took place on the nation's 200th birthday, July 4, 1976. It housed several different types of exhibits over the years, including a permanent exhibit on the history of the town, and is also the only museum in America to spotlight the Frasch mining process. It has been moved one other time in the history of the town, to its current location on 900 S. Huntington Street, across the street from the Sulphur Judicial Center. Moving to this location has resulted in a drastic increase in visitors.
The museum was officially signed over from the Association of Commerce to the Brimstone Historical Society on December 5th of 2005. Until 2020, it housed artwork on display from local artists, and other historical artifacts from the history of the town. The permanent exhibits featured were of the history of the town and the Frasch mining process, but unfortunately in 2020, Hurricane Laura destroyed the railroad depot and many artifacts contained within.  The Brimstone Historical Society is planning a new building project, to be announced in the near future.